Establishing a single definition to explain a great interior design apartment is not possible as interior designing is not a skill; but in fact an art. It's an art that not only speaks differently but is also implemented and perceived uniquely by everyone. For a few combinations of paint, textures and fabrics in different ways can create a great design but for a few; simple, clean straight lines blended with the modern furniture are enough to create a statement. A good interior design apartment from a user point of view is the one that results into a comfortable, functional, practical and convenient interior that defines or reflects their mood, life style, personality and taste.
Today, generally large and open houses from the past have been reduced to small living spaces, due to economy and convenience, such as studios, apartments and tiny homes. This new lifestyle and space requires careful planning of interior that should be practical, functional, utilize every inch of space (in fact increase it by vertical space usage) and at the same time look aesthetically pleasing.
Artificially created feeling or Illusions of space combined with brilliantly designed furniture pieces, practical storage ideas and thought out organizational plans combined with basic interior design apartment principles for small spaces can only help us achieve the required interior.
1. Create Illusion of Space
Choosing right colours and making right combinations of colours can optically increase or decrease a space. It is always wise to consider the optical influence of a colour in the given area before finally implementing it. Wall and floor colours serve as the foundation stones of any successful interior.
Light coloured walls make the room feel airy and larger in size. Darker colours on the other hand give the reverse effect by absorbing light, instead of bouncing it back. A white ceiling with cold bright shades on the wall (cold bright blue as below) or maybe a wallpaper of the same shade with patterns of small size can give an expanded look to the room.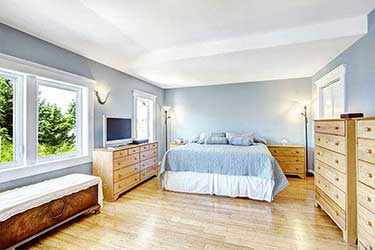 Ceilings can be optically raised with the use of bright cold colours. The safest approach when it comes to the use of colours is to keep the walls and ceiling of the same light colour.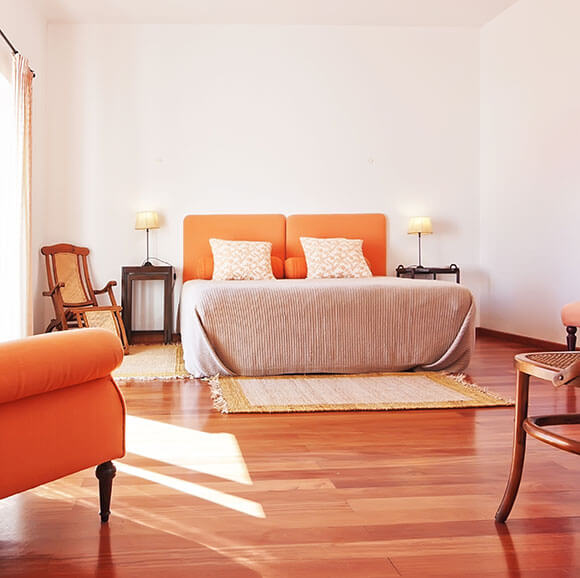 In case you have a small space, avoid wooden panelling, wall papers with large patterns or very dark colours on the walls as they give the room an appearance of being smaller in size than it actually is.